Projects delivered under construction management at-risk (CMAR) and progressive design-build (PDB) contracts are becoming more common in the US water sector. Each method offers opportunities for an owner to accelerate schedule, collaborate more effectively with a project team, facilitate early consideration of construction issues, and receive insight into project cost. There are many similarities between these two delivery methods, but PDB offers one major differentiator: an opportunity for the owner to transfer additional risk.
Two Contracts versus One Contract
Both CMAR and PDB make use of a collaborative, construction-focused perspective that is incorporated into planning and design. Overlapping activities shortens the schedule. Early decisions can be made that potentially lower cost and provide for better constructability. Construction cost is developed as an open-book process and creates opportunities to modify the project scope to meet the owner's budget. In the end, construction moves forward faster, with more cost certainty than traditional design-bid-build (DBB) delivery, and a project sees a reduction in the number of change orders.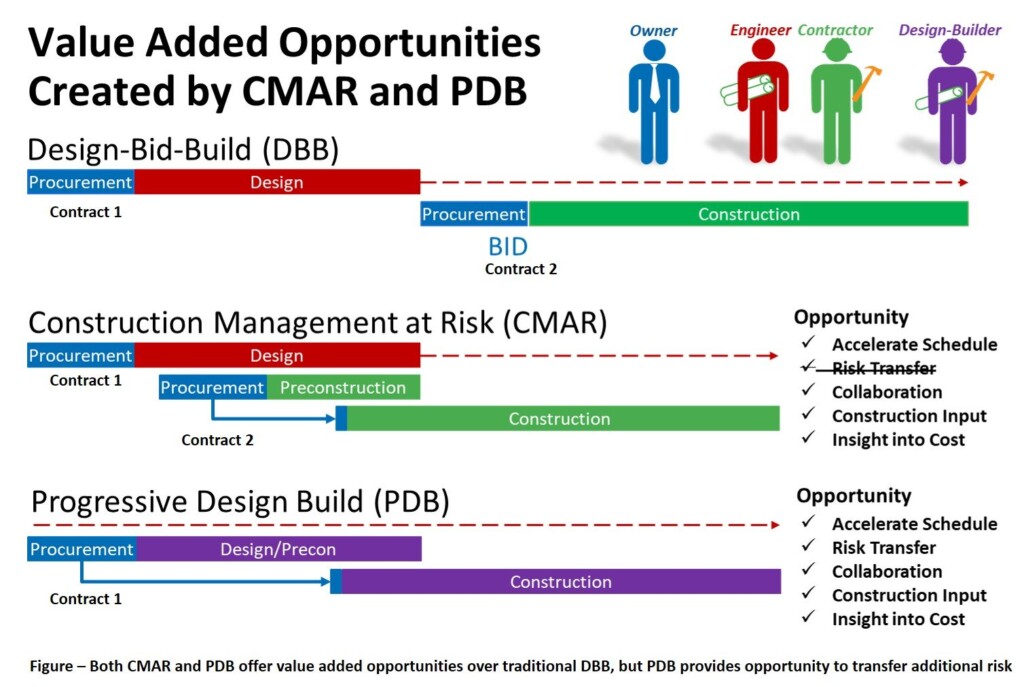 With increased collaboration, CMAR helps to mitigate risks but essentially offers a risk profile similar to a DBB project. In implementing a CMAR project, the owner contracts for engineering and construction under two separate agreements:
A contract is executed for engineering and services during construction.
A contract is executed for preconstruction services and construction.

The contractor provides input into design, evaluates work sequencing and constructability, develops and maintains a project cost model and schedule, and submits a price to construct the project (Phase 1).
The owner has the option to accept the price and move forward with the contractor to construct the project (Phase 2) or can "off-ramp" the contractor.
Under a PDB contract, the owner enters into a single contract with a design-builder to advance design and complete preconstruction activities. Like a CMAR contract, at the end of the Phase 1 process the design-builder submits a price to complete design and construct the project. The owner can choose to move forward or "off-ramp" the design-builder. Unlike CMAR, PBD creates a single point of responsibility and transfers risk as identified below.
Assigning Liability for Project Performance to the Design-Builder
Project risks include design, project performance, building and administrative permits, coordination with existing facilities, fines and penalties, proprietary processes or equipment, quality and quantity of effluent (finished water), schedule, cost, quality of installed infrastructure, construction warranty, and professional liability. Because the CMAR process makes use of two contracts, the ability to transfer risk is more limited than PDB and liability, in most cases, remains with the owner. For example:
On a CMAR project, risk is limited in a professional engineering services contract to a benchmark known as "standard of care." Standard of care requires the engineer to exercise the care and skill ordinarily exercised by other members of the engineering profession in performing services under similar circumstances. Anything falling outside of standard of care generally remains the responsibility of the owner.
Under a CMAR construction contract, the contractor has no responsibility for developing the design documents. The owner remains liable for any issues and considerations outside a requirement for the contractor to conform with the "as-bid" documents.
Because PDB makes use of one contract, the design-builder becomes the single point of responsibility. In that role, they commit to providing a project that performs within a set of parameters defined by the contract. This "project performance" requirement assigned to the design-builder is much more encompassing and serves to transfer risk away from the owner.
Using Progressive Design-Build to Better Manage Risk
The objective in a PDB contract is to have risk, contingency, and pricing discussed during Phase 1 and agreements put into place with both parties understanding consequences. The owner recognizes value when using the PDB process to:
Allow the team to better identify, control, and possibly transfer certain project risk.
Facilitate active discussion of risk and the development of solutions on how best to address it.
Permit the project team to assign responsibility to the party best able to address the risk (owner or design-builder).
Provide open-book transparency on how risk is being accounted for in the project price.
Owners should consider collaborative delivery when evaluating options to design and construct infrastructure. While both CMAR and PDB offer opportunities to improve project execution, PDB brings an opportunity to better manage risk.