PROCUREMENT GUIDES & CONTRACTS
Essential tools for owners.
We develop and distribute research based, field-tested procurement guides to industry professionals to increase understanding, competency, and success. Produced by the WCDA Best Practices Committee, our procurement guides provide owners with templates and best practices for developing requests for qualifications (RFQ) and requests for proposals (RFP) for water and wastewater projects using design-build and construction management at-risk delivery methods. Additional guidance on procurement may be found in the Water and Wastewater Collaborative Delivery Handbook, Sixth Edition and in our education programs.
IMPORTANT:
Our procurement guides are only available to:
WCDA MEMBER FIRMS, MUNICIPAL WATER/WASTEWATER FACILITY OWNERS, and REGULATORY AGENCIES.
RELEASED – JUNE 2023
NEW CMAR CONTRACT TEMPLATE
Free to WCDA members. Available for owners, regulators, and nonmembers to purchase.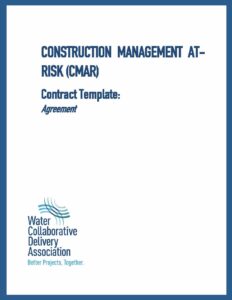 CMAR Contract Template