Handbook
Water and Wastewater Design-Build Handbook—the industry's essential guidebook.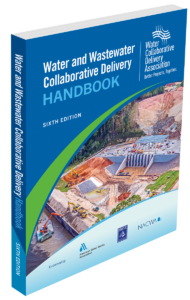 Since its first edition in 2008, the Water Collaborative Delivery Association's Water and Wastewater Design-Build Handbook has guided users through the fundamental steps of collaborative project delivery. With the introduction of this sixth edition, the Water and Wastewater Collaborative Delivery Handbook incorporates not only a new name that reflects our expanded focus, but also a new volume that contains practical instructions, guidelines, and lessons learned to help you apply the fundamentals presented in the first volume to an actual collaborative delivery project.
Here's a sneak peek at what's included in the 6th edition of the Water and Wastewater Collaborative Delivery Handbook:
Part 1—Collaborative Delivery: Principles, Approaches, and Management Techniques
Is Collaborative Delivery Right for Your Project?
Making Sense of Collaborative Delivery Options
Understanding and Allocating Risks
Understanding Contracts
Emphasizing the Importance of O&M Engagement
Preparing and Supporting a Project for Collaborative Delivery Success
Implementing a Best-Value Procurement Process
Part 2—Implementation Guides
Foundations of Project Success
PDB/CMAR Phase 1 Design and Preconstruction
Getting to a Contract Price
Unique Aspects of FPDB
Construction Implementation
Project Completion
Expanded Glossary and References
Links to Project Spotlights
ACCESS YOUR 6TH EDITION WATER AND WASTEWATER COLLABORATIVE DELIVERY HANDBOOK TODAY!
WCDA MEMBER
All employees of WCDA member firms. Member list can be found here.
Access Free PDF/Purchase Hard Copy
OWNER
All employees of a municipal water/wastewater facility
REGULATORY AGENCY
(Will be verified via email address)
ACADEMIA
(Will be verified via email address)