Handbook
Water and Wastewater Design-Build Handbook—the industry's essential guidebook.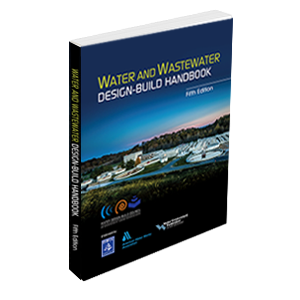 Since its first edition in 2008, the Water Collaborative Delivery Association's Water and Wastewater Design-Build Handbook has guided users through the fundamental steps of collaborative project delivery. Incorporating DBIA's Design-Build Done Right™ as a core resource, this fifth edition highlights best practices for procuring, designing, and building public and private water or wastewater projects.
Here's a sneak peek at what's included in the 5th edition of the Water and Wastewater Design-Build Handbook:
Deciding to Implement a Collaborative Delivery Project – Includes discussion on the use of an owner advisor
Principles and Best Practices of Collaborative Delivery – Descriptions of the different collaborative delivery methods and a decision-making model
Risk Management and Contracts – Updated graphics illustrate the allocation of various risks
Conducting the Procurement Process – Incorporates information from the WCDA's PDB, FPDB, and CMAR Procurement Guides
Managing and Implementing Collaborative Delivery Projects – Covers team structure, developing a collaborative working environment, and implementing a project management plan
Getting to Project Completion and Transition – A roadmap for a project's final stages
Public-Private Partnerships – Focuses on the fundamental terms, concepts, and applications in the water/wastewater sector
Over 30 project case studies highlighting successful collaborative delivery projects by WCDA members
An expanded glossary and list of references for additional information
ACCESS YOUR 5TH EDITION WATER AND WASTEWATER DESIGN-BUILD HANDBOOK TODAY!
WCDA MEMBER
All employees of WCDA member firms. Member list can be found here.
Access Free PDF/Hard Copy
OWNER
All employees of a municipal water/wastewater facility
Download Free PDF/Order Hard Copy
ACADEMIA
(Will be verified via email address)
REGULATORY AGENCY
(Will be verified via email address)
Download Free PDF/Order Hard Copy
DBIA MEMBER
(Membership will be verified)